Membership Benefits Include:
– Membership Certificate
– Practice Directory Listing & Link To Your  Website*
– Discount To PHCS Seminars*
– So Much More!
* Special Membership Prices For Associate DCs & Students!
DC MEMBERS ONLY:  UPCOMING EVENT!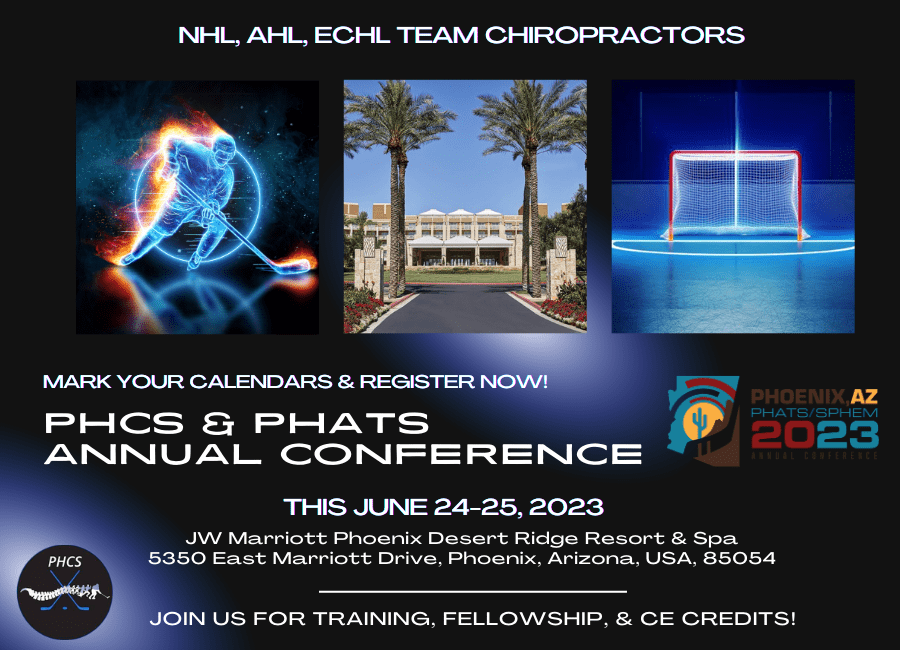 NHL, AHL, & ECHL Team Chiropractors!
Join your colleagues and us for a historic professional hockey event as the PHCS holds its 4th annual workshop in conjunction with the PHATS/SPHEM Annual Conference in Phoenix, Arizona June 24th & morning of the 25th, 2023. Learn from PHATS and PBCS presenters and receive up to 12 hours of continuing education credits.  *You must be a PHCS Team DC member to attend.
TO JOIN, CLICK THE TEAM DOCTOR MEMBERSHIP BUTTON. Fill out the information requested and join the PHCS. You will then be given instructions and details about registering for and attending the big event in Phoenix.  
* This event is for PHCS NHL, AHL, and ECHL team DCs only!
Even though you cannot attend this event, you are invited to attend our annual fall workshop, held in conjunction with the Professional Baseball Chiropractic Society (PBCS) and the Florida Chiropractic Association this November at the beautiful Naples Grand Beach Resort in Naples, Florida.
Subscribe to be placed on a list for notification when details are released about the Naples event in November.